Book

Four Perfect Pebbles – A Holocaust Story
By Lila Perl and Marion Blumenthal Lazan
Publisher: Greenwillow Books, HarperCollins Publishers
195 Broadway New York, NY 10007
Publication Date: March 21, 1996
ISBN: 0-688-14294-X
Hardcover, 30th printing
To order direct from HarperCollins
1-800-242-7737
Available in English, Dutch, German, Hebrew and Japanese
Four Perfect Pebbles:: A Holocaust Story
In English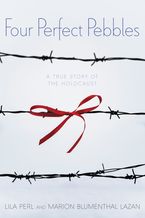 Greenwillow Paperback Edition 20th Anniversary
ISBN: 978-0-06-248996-8
To order from HarperCollins (800) 387-0117
The twentieth-anniversary edition of Marion Blumenthal Lazan's acclaimed Holocaust memoir features new material by the author, a reading group guide, a map, and additional photographs. "The writing is direct, devastating, with no rhetoric or exploitation. The truth is in what's said and in what is left out."
—ALA Booklist (starred review)
---
Four Perfect Pebbles Kindle E-Book

ISBN: 978-0-06-247574-9
Four Perfect Pebbles is now available in E-book format and can be ordered as a Kindle Edition through Amazon.
---
Schools and Organizations:
Schools and organizations can receive a discount by ordering directly from HarperCollins at
1-800-242-7737
(In Canada call 1.800-387-0117)
Greenwillow hardcover ISBN: 0-688-14294-X
HarperCollins paperback ISBN: 978-0-06-248996-8
Scholastic Book Club edition of Four Perfect Pebbles – Call 800-724-6527 (choose option 1 on the automated phone message)
ISBN: 0-590-38196-2
To receive a discount on the purchase price,  tell Scholastic that the books are for an "author's appearance."
Schools and Libraries:
Four Perfect Pebbles with heavy-duty cover for library or class-set available from
Perma-Bound 1-800-637-6581
---

In Dutch:  Vier gelijke stenen Op de vlucht voor de holocaust
---
In German:  Vier Kleine Kiesel
Vier Kieselsteine — an easy-to-read version of the German edition of Four Perfect Pebbles.
Order directly from Stiftung niedersächsische Gedenkstätten (Bergen-Belsen Memorial Museum)
---
In Hebrew:  ארבע אבנים מושלמות
Review – בקֹרת
Yad Vashem ארבע אבנים מושלמות
Steimatzky ארבע אבנים מושלמות
---
In Japanese:  おまもり―ホロコーストを生きぬいたある家族の物語
Available from Asunaro Shobo of Tokyo or from Japanese bookshops
In New York City, Kinokuniya, 10 West 49th Street, 212-765-7766 will be happy to help you order Four Perfect Pebbles in Japanese ISBN 4-7515-1817-8. (Other locations in the U.S.)
kinokuniya
Four Perfect Pebbles is available in public libraries. If not on the shelf, please ask your librarian to order a copy for you.
 ———————————
DVD
Highly Acclaimed DVD
Marion's Truimph – Surviving History's Nightmare
Produced by John Chua; Narrated by Debra Messing
"Editor's Choice" – American Library Association's BOOKLIST
A 58 minute DVD color documentary.
Rating: Highly Recommended by Educational Media Reviews Online
Audience Level: Middle School through Adult
Some graphic depiction of atrocities.
In 1938 the Blumenthals began their journey to America as refugees from Nazi Germany. Just before departing from Rotterdam, the Germans invaded Holland, and bombed their ship. And so began more than six years of horror in Hitler's camps, and an incredible story of near escapes, dashed hopes and tragedy. At liberation, Marion Blumenthal was ten and weighed 35 pounds. Today she bears witness as the last generation of living Holocaust survivors. Her memoir, Four Perfect Pebbles, co-authored by Lila Perl, is in its 23rd printing, and is taught in schools worldwide. MARION'S TRIUMPH is a unique Holocaust documentary that speaks to a young generation. Illustrated with rare footage, photos and animated flashbacks, it features surviving Blumenthals and narration by Debra Messing (star of WILL AND GRACE) 58 minutes.
Editor's Choice – American Library Association's Booklist
Note: This product is the sole property of its producer. CustomFlix acts as a reseller only, and takes no responsibility for the content or quality of this title. DVD Duplication by CustomFlix
———————————
Audio Book
Four Perfect Pebbles
A Holocaust Story